Dr Phillip McGeorge
MBBS, FRACS, FRANZCO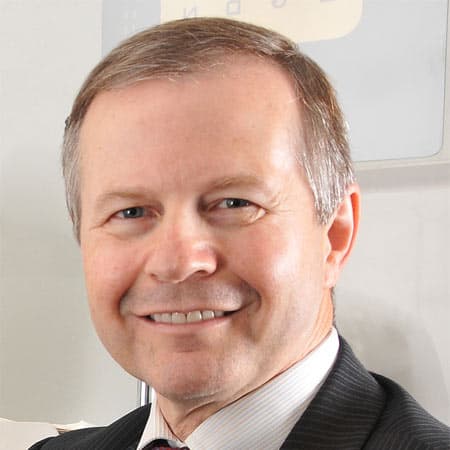 | | |
| --- | --- |
| Speciality | Ophthalmology |
| Degrees | MBBS, FRACS, FRANZCO |
| Location | Murdoch & Subiaco |
Sophisticated technology needs expert skills and Dr Phillip McGeorge is one of Australia's most accomplished and experienced eye surgeons. Dr McGeorge is internationally recognised and is regularly asked to speak on various topics and present his own results at national and world eye surgery conferences. Dr McGeorge has been an ophthalmic surgeon for over 25 years and has been a pioneer in laser refractive eye surgery since it was first performed in Western Australia in 1992.
Born and educated in Perth Dr Phil McGeorge gained his medical education at the University of Western Australia, and after medical and surgical residency in Perth hospitals and a period in General Practice, Dr McGeorge discovered a passion for surgery of the eye. He undertook his speciality training at Royal Perth Hospital. Dr McGeorge became a Fellow of the Royal Australasian College of Surgeons (FRACS) and a Fellow of the Royal Australian and New Zealand College of Ophthalmologists (FRANZCO) in 1991.
Achievements of Dr McGeorge
During his career in ophthalmic surgery, Dr McGeorge has played a leading role in introducing and refining techniques in cataract and refractive surgery in Australia. Dr McGeorge's achievements include:
Commencing small incision phacoemulsification (the modern technique of cataract surgery) when it was almost unknown in Australia. He has taught many other Western Australian eye surgeons this procedure. Today it is the procedure of choice in Australia.
Performed the first corneal incisions with foldable intraocular implants in Australia. Now the most common method amongst advanced cataract surgeons.
Some years ago Dr McGeorge pioneered a technique called micro-incision cataract surgery which is now the normal technique.
The first surgeon in Western Australia to perform LASIK and wavefront-guided laser eye surgery.
Dr McGeorge has been working in the refractive field since its inception and has lectured in Australia and internationally. He was a founding member and director of the Perth Laser Vision.
Dr McGeorge has been an office bearer with the Royal Australian and New Zealand College of Ophthalmologists.
Dr McGeorge was a foundation member of The Australasian Society of Cataract & Refractive Surgeons.
He is a member of the International Society of Refractive Surgeons, the American and European Societies of Cataract and Refractive Surgeons.
In 1991, he founded Murdoch Eye Centre, a multidisciplinary eye specialist centre, where he has been the medical director since.